Rainbow Mega Nubby by Don Wands (No Flash)
Pros:
Aesthetics, Material, Texture, Price
Cons:
Not curved
The
Rainbow Mega Nubby
(RMN) by Don Wands is a straight, clear wand with several large, multicolored nubs. It comes packaged in a cylinder shaped plastic case that has a cardboard insert in the middle, and is not discreet. Besides the insert and the dildo — of course — is a sample of
Wet Platinum lubricant
and a very heavily padded drawstring pouch which is unmarked and not suspicious, so your toy will be safe and unassuming.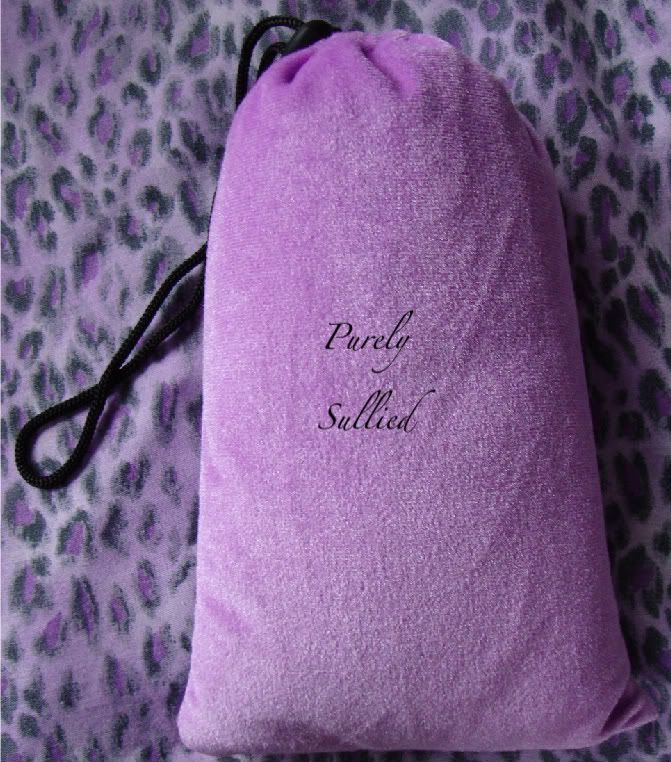 The velvety pouch. The tag inside says "100% Polyester Hand Wash Cold Water" (No Flash)
The RMN is 3 1/2" around and its whole 7 1/4" length is insertable, though not something I'd recommend. It's lightweight and made of
pyrex
, a type of glass that is extremely safe with the body, works with all types of lubricants, and is easy to maintain. To clean, simply use soap and water or toy cleaner for day-to-day use. It can be sanitized with a 10% bleach solution, by the dishwasher (top rack, no soap), or by boiling. If boiling, be very attentive as the temperature changes can damage the RMN, so do not submerge it in boiling water when it is cold, and allow the water to cool to room temperature before removing it. Although it is nonporous, it should be used with a condom or sanitized if shared.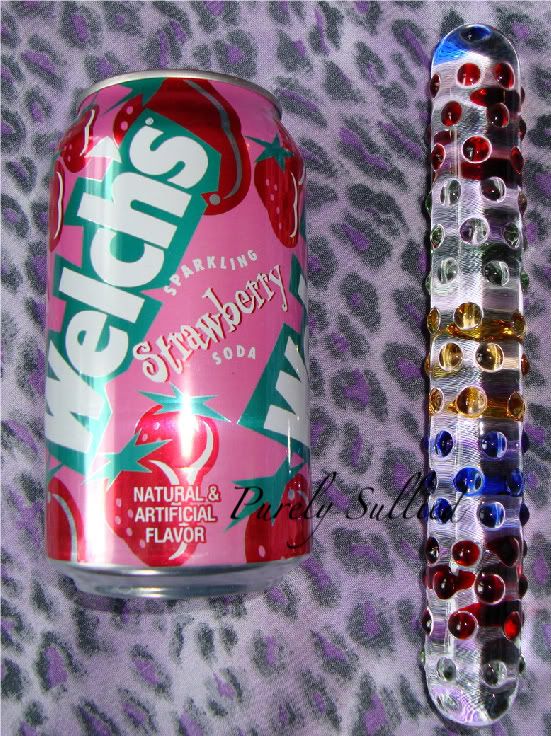 Compared to a standard soda can. (With Flash)
The RMN is intended to be used vaginally. Though the RMN is long enough to probably be handled safely, the lack of a flared base and the nubs make this toy a poor and extremely uncomfortable choice for anal use. Even vaginally, some may find the texture of the RMN to be uncomfortable, but I personally love it. The nubs can definitely be felt, but they are very smooth and the small circumference of this dildo prevents them from being overwhelming. Still,
lubricant
should be used, and thankfully a little bit goes a long way with glass. I recommend starting off slow, and possibly even with another toy. Once comfortable, definitely try out different techniques as the RMN's texture creates some very interesting and unique sensations. My favorite is a slight twisting while pulling motion, followed by reinsertion.
Being glass, the RMN has other pros besides safety, lube compatibility, and cleaning. Since the RMN is made of glass, those who love temperature play won't be disappointed. It can be easily cooled or warmed by placing it in water, but even at room temperature the RMN feels cold, so it's always ready for those who like to be chilled. It can also safely be used anywhere, from the bedroom to the bathtub. Just be aware of extreme temperature changes and always check glass toys for chips and fractures before use.
While the pros are definitely enough to get me off, it would be nice if the RMN was curved. It is simply too straight and rigid to comfortably hit the g-spot, when it does at all. For some, this may be a definite negative, but it's just a bit of wishful thinking on my part.
Overall, the Rainbow Mega Nubby isn't a fancy toy with many functions, but it makes an excellent dildo for those who love glass or texture. Even at a low price it is appealing to the eye and performs well.