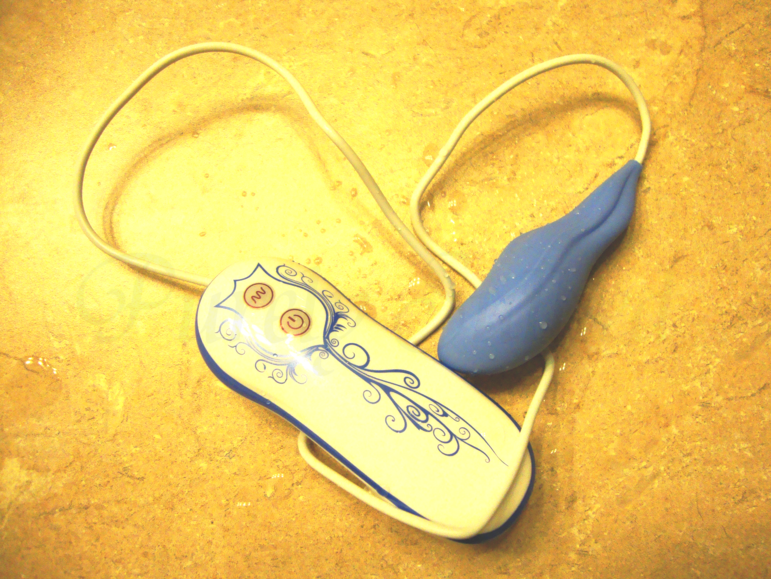 The
Calypso 2
by CalExotics is a uniquely shaped, corded bullet-type vibrator. It's part of the Couture Collection which is a higher end collection made of Japanese medical grade silicone with fool-proof and illuminated controls. If you're looking for a bullet that covers most of the bases, this might be the one for you.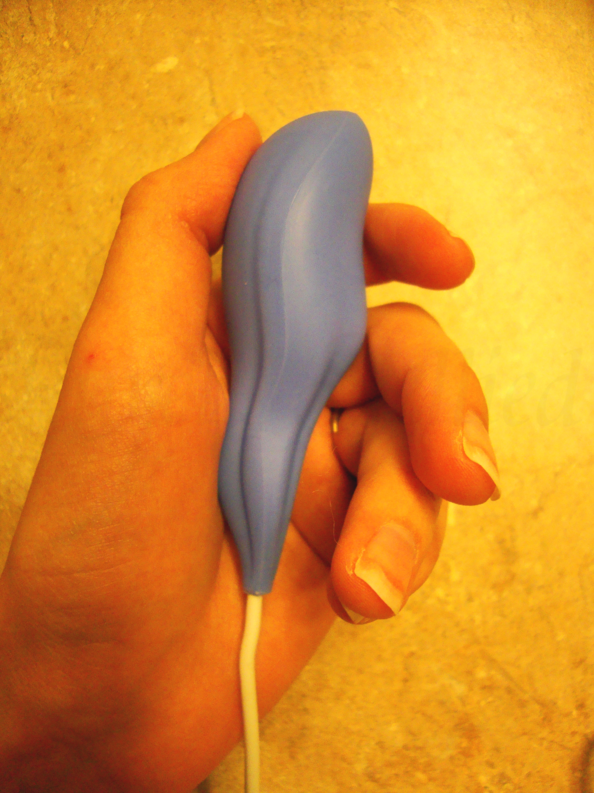 The bullet connects to the control pack by a 22 1/2" long cord, and is 3 1/2" long and about 1 1/2" in diameter at its largest spot. It's shaped perfectly to hug the clitoris which, unsurprisingly, is my favorite use for it. As always, silicone is a fabulous material that can be bleached or cleaned with trusty ol' soap and water. This way you won't have to worry about sharing it between partners or even what orifices you're stimulating. You probably won't need lubricant, but stick with water based as silicone will damage it.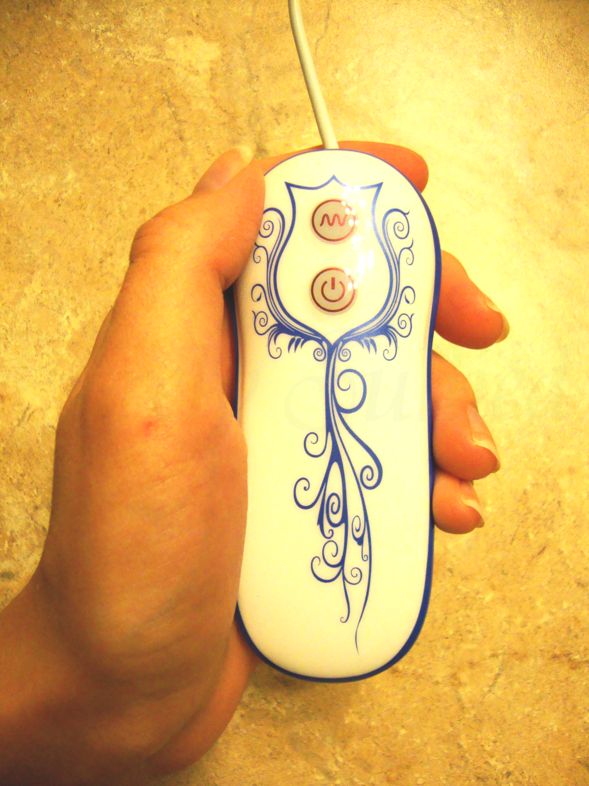 The control pack is about four inches long by one and a half inches wide and fits nicely in one hand. It has a power button and a function button above it, both of which light up. The vibrations have a total of seven function settings, beginning of course with low, medium, and high standard vibrations. At its highest, the vibrations are just over average but I like to think of bullets as an accessory, not the main tool for the job. The remaining four are escalating and pulsating vibrations which I think are more fun to warm up with than to climax with. I'm probably not too impressed with them since they're buzzy vibrations; hey, at least they're pretty quiet and probably can't be heard through a closed door.
This toy is marketed as waterproof, but the control pack that contains the two AA batteries has no sort of seal. It's really hard to open but I'm too weary to submerge the control pack. But it's still great for use in the shower; after all, Calypso was a nymph who lived on an island. I love taking this in the shower and pressing my breasts against the cool tile. If you're needing something for discreet use, the noise from the shower will definitely drown out the sound of the vibrations unless the person is in the same room, maybe.
The packaging isn't discreet but it's classier, considering CalExotics average packaging, is still not a spectacular storage option. It does work great if you need something more long term and secure, although less functional. This is small enough to fit in the cracks of one of my toy boxes.
If corded toys don't bother you and you're not looking for overly powerful vibrations, the Calypso 2 is really a good choice for your collection. I'm iffy about it because while bullets are more conventional for partner sex, a separate corded control pack is really not so convenient for me. It's a great price though and well matched with your favorite dildo if you just can't find a use for it between you and your partner.
Thanks CalExotics for sponsoring this review!