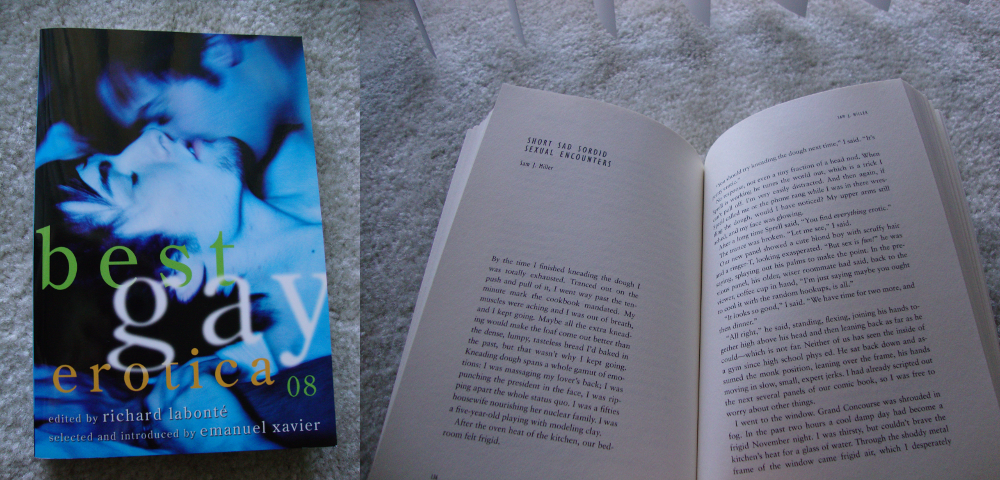 The cover and inside to give you an idea of text size.
Best Gay Erotica 08
is a compilation of erotic, homosexual stories by various authors. There are seventeen stories total between the 224 pages of this book, and I believe they are presented quite nicely. We begin with a foreword by the editor which is short and to the point—what a relief!—and an introduction by Emanuel Xavier who has contributed to the
Best Gay Erotica series
in the past. I think at some points this introduction is a little inappropriate because Xavier often mentions himself and his accomplishments, and obviously this compilation is not about him. In the scheme of things though, I suppose that's of little importance.
Then we get to the stories themselves. This collection is interesting, but I'm saddened to find that I'm still not horny by page 158. Violent and cocky tops, tickling fetishes, failed relationships, drugs and flashbacks, prostitution and watersports, annoying repetition ("I remember…"), hairy men, and incest don't get me excited. At that point I was pretty confused. Isn't this erotica? Isn't this supposed to get me hot? Clearly Mr. Xavier's turn-ons don't match mine, because he says in his introduction on page xii that "Lube and cum stains sealed the selection of each finalist in this collection." I'm not feeling his enthusiasm.
There were stories that I enjoyed however, even if they didn't excite me.
Donuts to Demons
by Horehound Stillpoint is extremely well written and I would agree with Xavier that it's plenty artistic. I actually went to hunt down more of Stillpoint's work.
Breeding Season
by Taylor Siluwé is almost a winner, taking you into the mind of a high school boy in love with his best friend.
Snowed in with Sam
by Jeff Mann is almost my cup of tea, minus one disturbing detail and hairy bears.
Come to Light
by Rhidian Brenig Jones is nearly brilliant, and I'm beginning to realize the stories get better as you go along.
Underground Operator
by Andrew McCarthy is definitely a fun one if you're into public sex and threesomes.
Finally, we come across two final concluding sections about the authors and editors. Here you'll find a tiny bit of background on each author, any previous works, and sometimes their contact information. Likewise, the editor section contains the same information.
Overall, the anticipation for this hot and heavy, overpowering excitement to break through these words and into my body never really paid up as much as I expected it to. Unless the aforementioned categories are a turn on for you or you're just interested in homosexual material, this book is better picked up on the cheap or borrowed because the amount of actual good erotica in it is pretty sparse. I will continue getting my hands on other
Best Gay Eroticas
and hope that other judges will have a taste that matches my own.
Thanks to EdenFantasys for sponsoring this review!



Book by Collection of Stories by Various Authors / Richard Labonte
Format: Paperback
Publisher: Cleis Press Inc.
This product was provided free of charge to the reviewer.