I'll be honest, when I first opened the Power Bumper I was pretty terrified. This rabbit vibrator is huge, pink, and bumpy. I was sure I'd never be able to use it as it was meant to because of its frightening size and obvious traction problems, but I took a deep breath and stepped up to the challenge.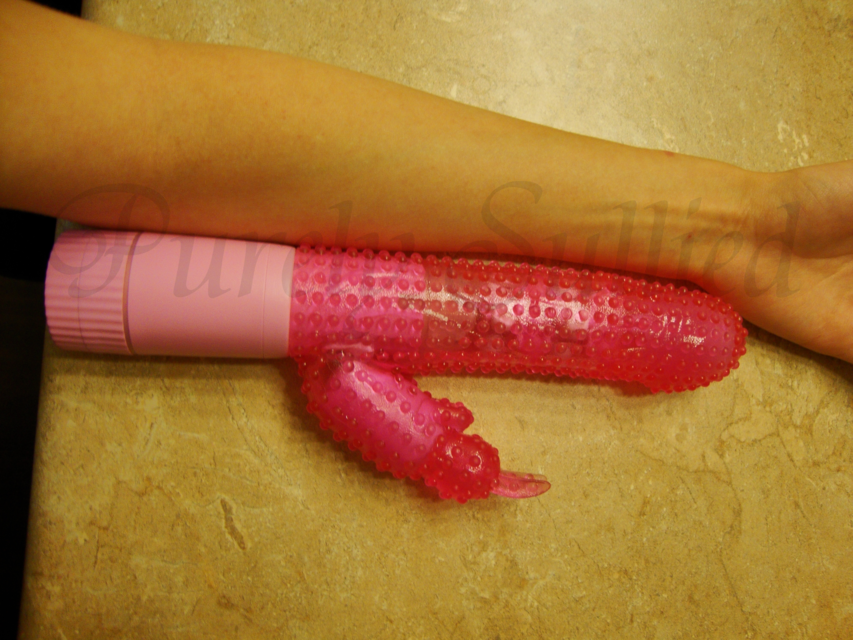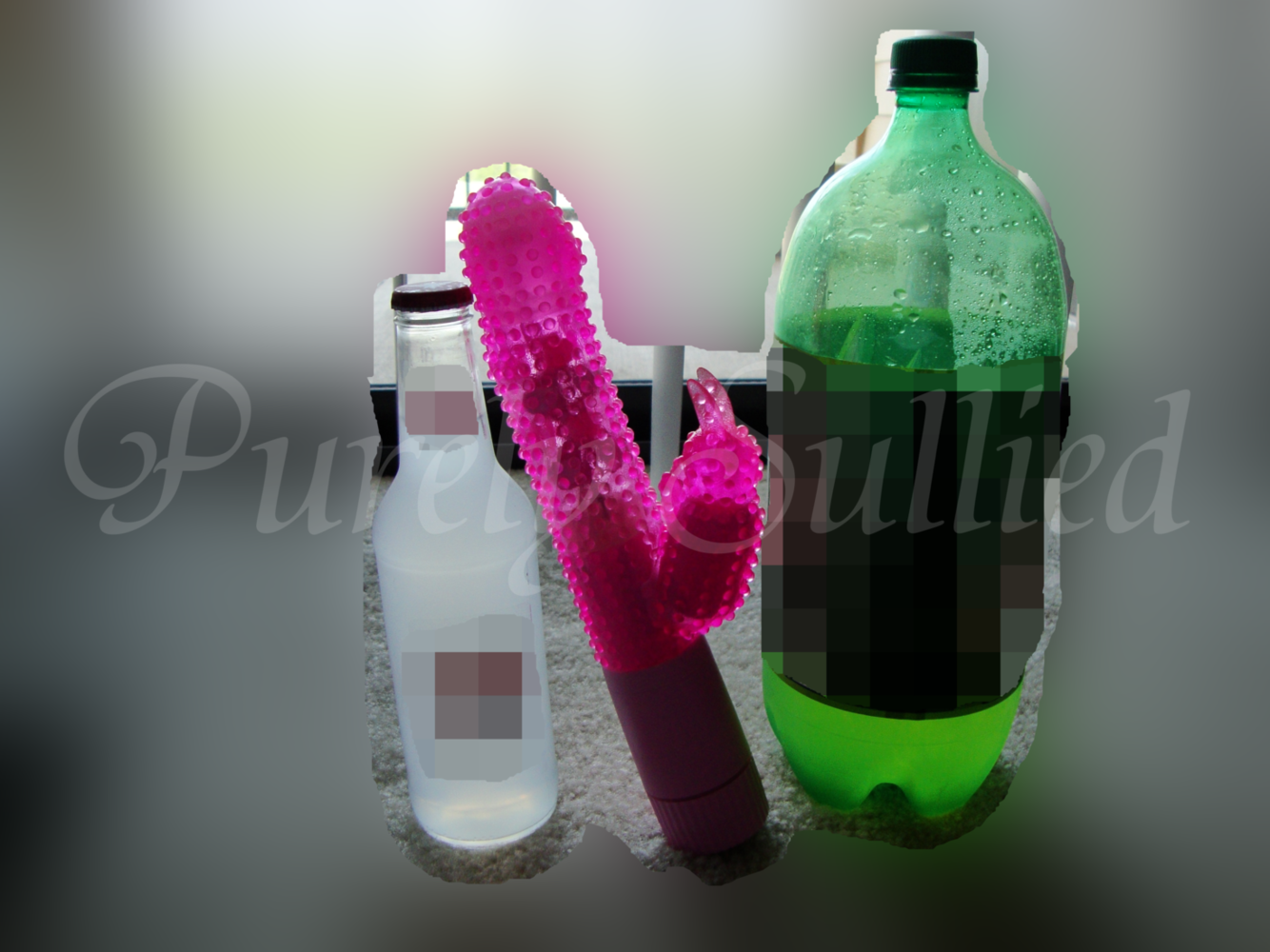 (Click images for full size.) Compared to my forearm and two bottles (11.2 oz and 2 liter).
I'm seriously going to annoy you guys with talking about how big this toy is, but I'm really not kidding. From base to tip, the entire length of this toy is about 10 ½", of which about 5 ½" is insertable. The rabbit measures 4" from base to ear tips. But what I was really afraid of was the diameter; this bad boy is 1 ½" in diameter not to mention its texture.
The Power Bumper is made of TPR and isn't firm. This allows the rotating beads to be felt against the skin, especially when squeezed or inserted in the vagina. It's also more pliable and squishy which helps a lot for insertion. Unfortunately, TPR is porous so it needs to be used with a condom when sharing because it cannot be bleached or boiled. To clean, simply use soap and water. Both silicone and water based lubricants are safe to use.

The controls. Sorry for being dirty/dusty; this has been set down many places today.
The base of the PB is actually plastic, with push button controls, and a twist off battery cap. I think the controls are a pain because you have to memorize what button does what. Clearly you cannot see the bottom of this toy while you're masturbating! So it's very easy to push the wrong button, get off your groove, and have to work yourself up again when you've gotten your settings back. It takes four AAs to get this guy running, and then you have options: vibrations, spinning beads, or both?
I like to start off with vibrations to warm up, but unfortunately only the rabbit vibrates. Still, it can easily be used on the clit without insertion. And wow, this vibe is actually pretty powerful! I was really impressed because usually when I encounter a vibe that has only two settings, low and high, usually high isn't
really
high. But low is more than adequate for warm up and I can come without even using the higher setting. The vibrations can be felt through the entire rabbit, so whether you're wanting a tease with the ears or a deeper vibration near the base, you can have the best of both worlds.
Insertion was difficult at first, as predicted. But I really overreacted when I first opened this product because once you've warmed up and add some lube, it's not that hard to insert. I did like the texture of the bumps and think that they really added to the experience, but they can be troublesome at first. I didn't experience any pain using this toy, as large as it is. Just remember to take it slow! Unless you're accustomed to larger toys, you won't be able to thrust with this anyway.
There are four rows of rotating beads in the middle of the shaft which can be rotated either way. This is my first experience with rotating beads, and I have to say it's really a different type of sensation, especially inside your vagina. Personally I could not insert the PB deep enough to experience all the beads internally, which may not be a bad thing because I really enjoy stimulation at the entrance. I'm not sure how I really feel about them though; I don't think it really was a wow factor for me. The actual shaft gyrates too, and I think I enjoyed that more than the beads.
Clearly if you're looking for a discreet toy, this is not it. Not only does its very image scream "Look at me!" but it's not a quiet toy by any means. The lower vibration setting isn't too bad and neither is the higher one, but it's the spinning beads that make a very loud electronic noise.
In the end I was able to overcome this pink beast and it gave me a decent orgasm. It really wasn't as terrible as I had feared, and this rabbit isn't a disappointment if it's in your size range. But for me, I'll be avoiding rabbits of this size and look for something a lot more manageable.
Thanks CalExotics for sponsoring this review!