I always just use body soap when I shave. It gets the job done but definitely not without some very unpleasant razor burn. Looking for an alternative, I came across Inttimo Shave Kreme by Wet (1.5 oz for $7.99) which is an amazing smelling shaving cream that will leave your skin silky smooth and smelling delicious. It's a great option if you shave but don't want your partner to be eying your annoying razor burn when it's time to strip down after a lovely date.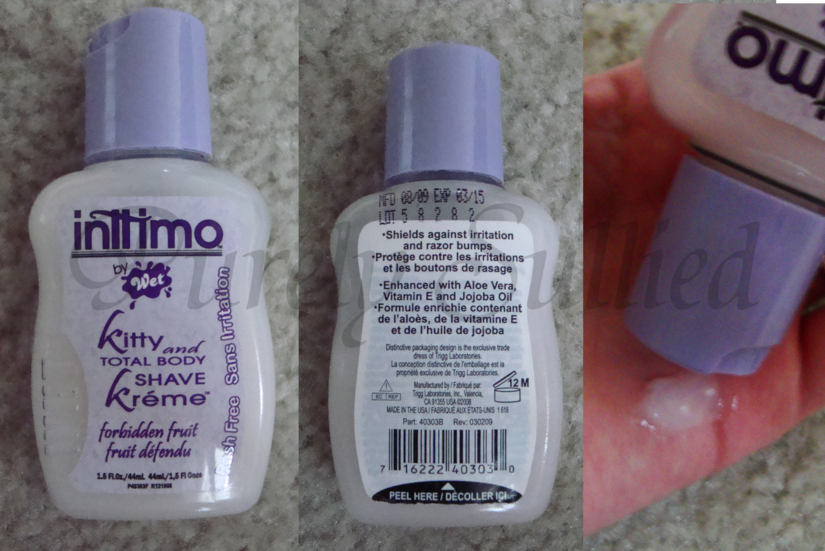 Wet International produces lubricants in the same price range, but they're not entirely out of their element by creating a shaving product. Inttimo is specifically marketed to shave your "kitty" but also the rest of the body. It also claims to be "rash free" and "shield against irritation and razor bumps", which is definitely supported by the following ingredients: aloe vera, vitamin E, jojoba, and shea butter.
Unfortunately it also contains some ingredients that can cause irritation, like parabens. You should also avoid this product if you're into natural ingredients and avoid –ates and –cones. Ingredients (
potential problematic ingredients underlined
): Water (Aqua), Aloe Barbadensis (Aloe Vera) Leaf Juice,
Behentrimonium Methosulfate
, Cetearyl Alcohol, Stearalkonium Chloride, Hydroxyethyl Ethylcellulose, Wheat Amino Acids, Simmondsia Chinensis (Jojoba) Seed Oil, Silk Amino Acids, Panthenol (Pro-Vitamin B5), Avena Sativa (Oat) Kernel Extract, Allatoin, Stearyl Alcohol, PEG-75 Lanolin, Glycerin, Cetyl Alcohol, Butyrospermum Parkii (Shea Butter) Extract, Tocopheryl Acetate (Vitamin E Acetate), Fragrance, Tetrasodium EDTA,
PEG-8 Dimethicone
, PEG-8 Ricinoleate, Fragrance, Phenoxyethanol,
Methylparaben
,
Ethylparaben
, Citric Acid, Blue #1, Red #33.
Inttimo definitely has the liking to a lotion or conditioner rather than a cream. I'd say that shaving creams and gels are totally incomparable to Inttimo's texture. It's decently thick, doesn't lather or foam, and moisturizes the skin. It has a smooth consistency that isn't sticky and it doesn't leave a residue.
Inttimo is fragranced, but it's far from overpowering. It cannot be smelled more than one to two feet away, which is great because it won't distract from any perfume or cologne but can be smelled on the skin by a lover. The scent is called "forbidden fruit", which is definitely fruity and sweet, but not candy-like.
In regards to actual shaving, this is a pretty impressive product. Its claims for being rash and razor burn free hold true. Even if you do happen to nick yourself, it doesn't sting or irritate the skin. A dime sized amount is all that's needed to adequately cover the armpits and groin, and another dime size is enough for the entirety of the legs. I wouldn't say that a little goes a long way, especially since there is so little product to begin with, but you will need less of this product than a traditional shaving cream or gel.
However, as much as I like the results, they really are no different than shaving with a conditioner. The area is moisturized and lubricated to protect against a razor, and that's how you get such smooth results without the need to apply lotion or aloe vera after shaving. Considering the ratio of price per volume, purchasing a conditioner is a much more wallet friendly option, plus then you'd have an array of choices in regards to fragrance.
The bottle itself is difficult to work with. It's got a push open top but the plastic of the bottle itself is so firm that it's really hard to squeeze the product out. Definitely store this upside down and use gravity to your benefit. Disregarding that small but important detail, it really is perfect for traveling and isn't graphic, so unless someone is peeking at your shower items it is discreet enough that it shouldn't cause any issues to carry around.
Ultimately, I recommend anyone to at least try this product. It's expensive considering how little product you're actually getting and that it's basically a fancy conditioner, but it's perfect for special occasions. Consider picking up a bottle if you have a partner who goes nuts over perfectly smooth and moisturized skin.