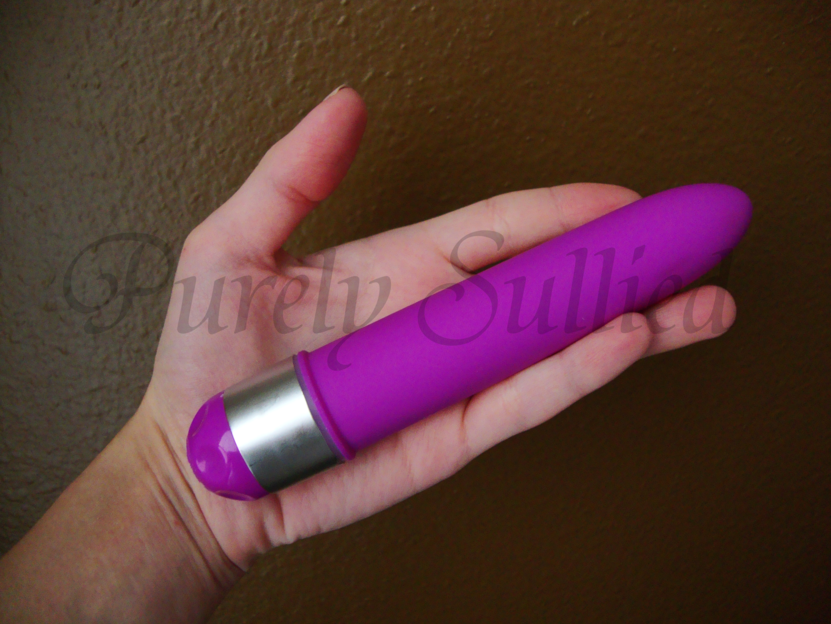 The
Nooner
by CalExotics is a multispeed novelty vibrator. Its small size makes it great to slip into your purse or take on a trip, and the velvety texture makes up for its lack of functions. If you're looking for a basic vibe that's small, feels great, and is very inexpensive, the Nooner might be for you.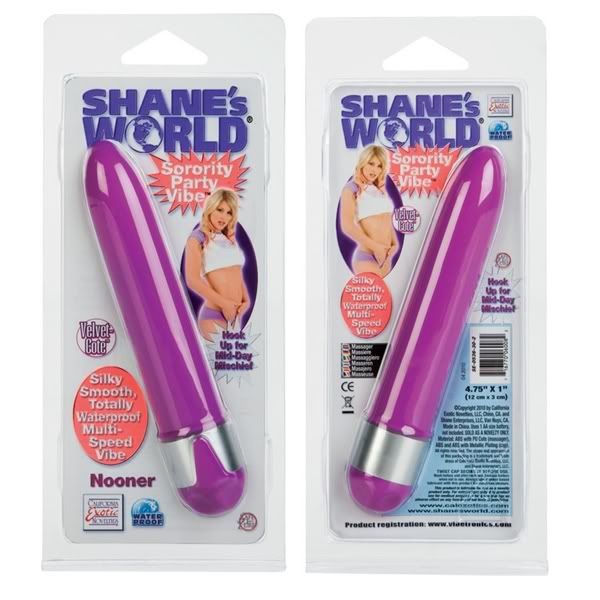 (Image courtesy of CalExotics.com)The Nooner comes in some very in-your-face non-discreet packaging which is best discarded—it isn't a great storage option, even if you don't have to worry about prying eyes.
At a total of six inches in length and a diameter/circumference of 1"/ 3 ¼", the Nooner is definitely not a full sized vibrator. This gives Nooner the best of both worlds: allowing it to be a portable vibe that can still be inserted. In my experience with more compact vibrators, they generally cannot be inserted or are not pleasurable enough while inserted. It's true that the Nooner won't allow you a feeling of fullness, but the velvet cote texture has a little bit of a tug to it which is great around the vaginal opening and especially on the clitoris. Unfortunately, even though this is a small vibe, it's not very discreet like other compact vibes can be.
As previously mentioned, this vibrator's body is velvet cote (according to its packaging), which is non-porous and phthalate-free. Its dial and battery twist-cap are made of plastic which shares the same properties, minus the gripping texture. This makes it easy to clean with soap and water, but when sharing it should be used with a condom since it cannot be boiled or bleached. The same applies to it being used as an external anal stimulator (but don't insert this as it has no protective base!) Water and silicone based lubricants can be used without harming this vibrator.
What I really like about this vibe is that it takes only one AA battery. Just twist off the bottom, slip in the battery, and turn the dial base to your preferred intensity. Personally I prefer to turn this vibe all the way up immediately, because it isn't overly powerful and I like very strong vibrations. It does have enough power to get me off, but if you absolutely need a powerful vibe, this won't work for you. Furthermore, the vibrations aren't deep and are definitely "buzzy", much like the very non-discreet sound it gives off when it's in use. It's not loud enough though to be distracting during sex and its small size allows it to be used in non-embracing positions if you just need that little extra something.
If you do purchase the Nooner and aren't satisfied with its vibrations, definitely try it out in other areas. It does wonders on nipples, tender sides, other erogenous zones, and even feet, making it great for foreplay. Unfortunately it's not safe for exploring under water, even though the packaging labels it as waterproof.
Overall I'd recommend this product to beginners rather than more advanced users, unless they have a penchant for basic vibrators. Everyone should have at least one in their collection though, because sometimes it's really great to go back to our sex toy roots.
Thanks CalExotics for sponsoring this review!