The Squiggle by CalExotics is a purple, textured, multifunction vibrator. At 8 1/2" inches long (6 3/4" insertable), with a 1 3/4" diameter, this toy is filling for me but should work for many bodies. There's one detail that makes it just a little different from a tradition vibe though: it bends! But we'll get to that in a minute.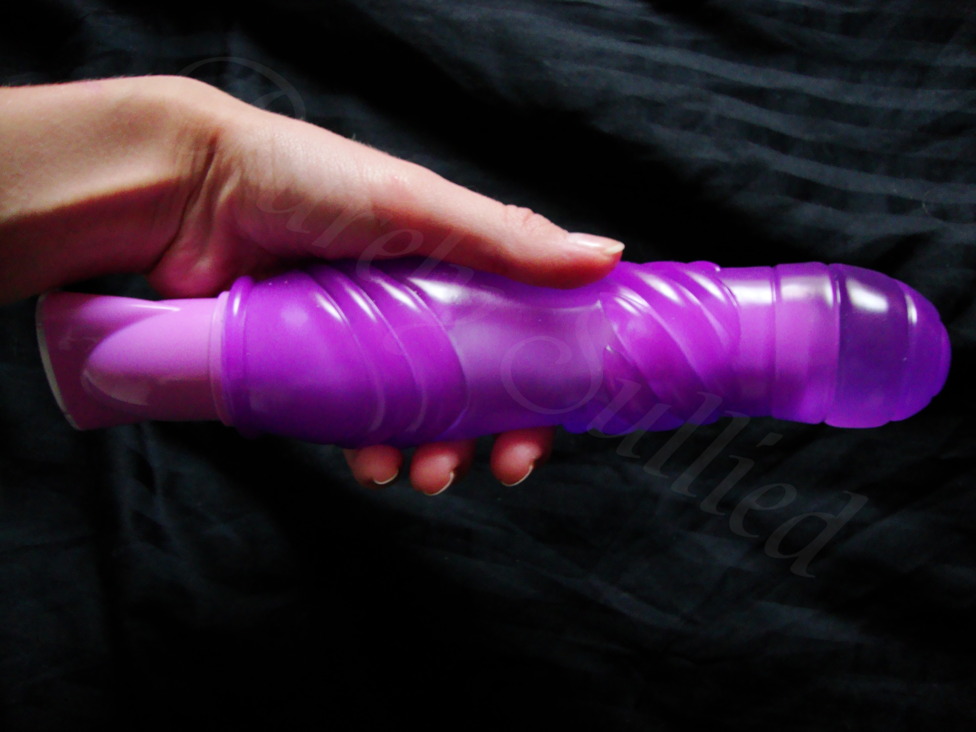 Right off the bat, there's one big downside to this vibrator. Its made out of PVC which isn't the safest of materials. PVC can smell very rubbery so it should be washed and aired out a few days at least before playing. Some say the smell never truly disappears, but I've had mine for a while and only smell it if I put my nose right up to the toy so this isn't a concern of mine. What really bothered me is that when I first received this toy it felt sweaty and sticky! The sweatiness disappeared after I washed it, but this strange sticky feeling—which I'm sure now is a characteristic of PVC—remains. Furthermore, PVC is porous so a condom definitely needs to be used if shared. It can't be boiled or bleached; soap and water is your only option. I'd say the only upside to this material is that it can be used with any lubricant.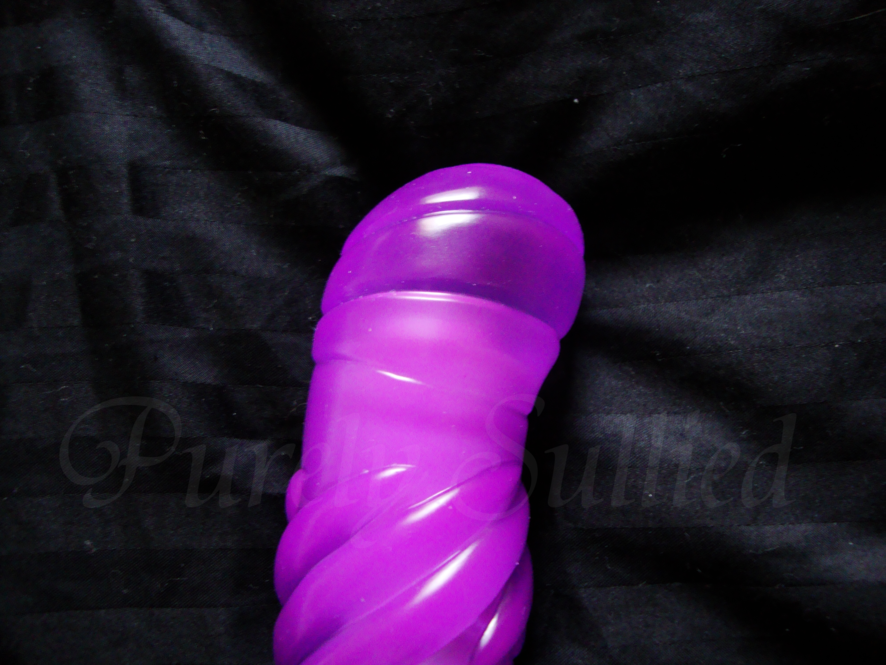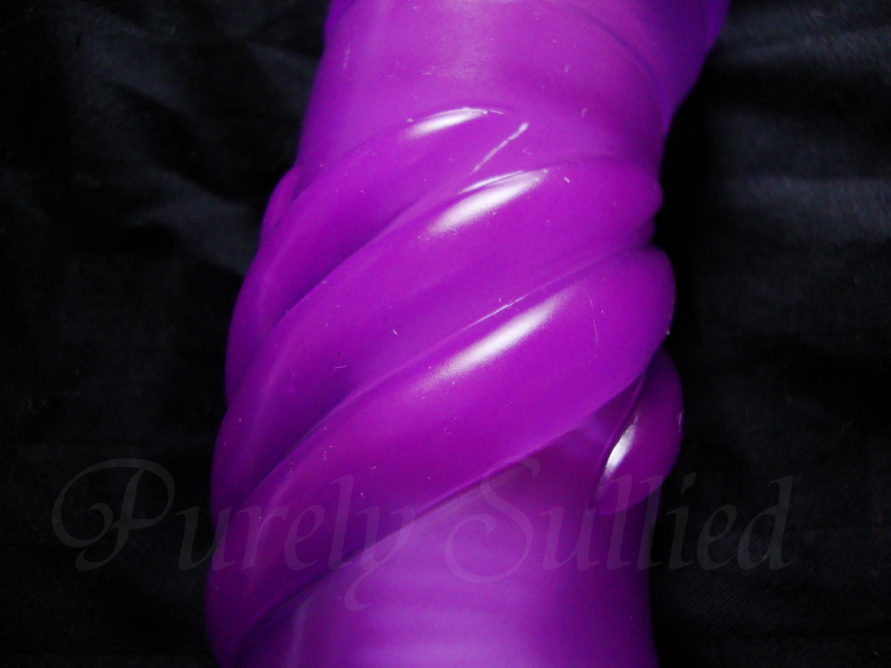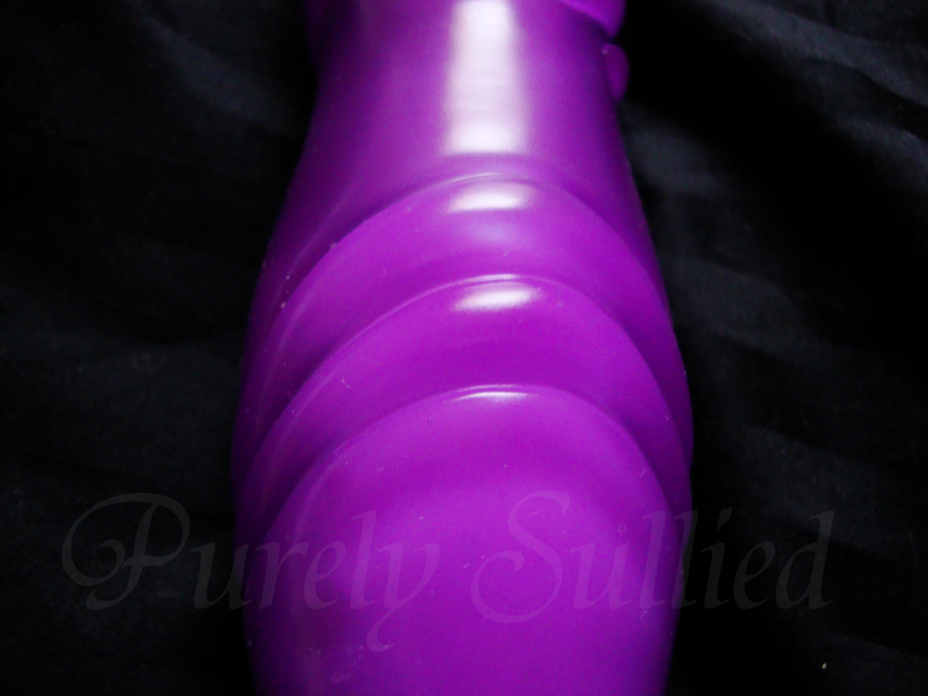 Click the thumbnails to get a closeup of the textured areas.
Besides the poor material, the second thing that will probably catch your attention is the texture. The Squiggle's texture appears very pronounced and potentially troublesome, but alas! it's really no trouble at all. The head has small grooves in it which I can't even feel. Then we come across some diagonal bulges and it's not the texture that I feel, but the added girth which I actually
love
. I can't speak for those who have birthed children, but my vagina tends to push out anything that I'm not holding in. But this diagonal texture would hold the vibrator inside me, which I found it strangely erotic. I recommend doing kegels with this toy too; it feels pretty damn amazing. My vagina is too shallow to discover the last ridges near the base of the toy, so I'm unsure of how they'd feel inserted.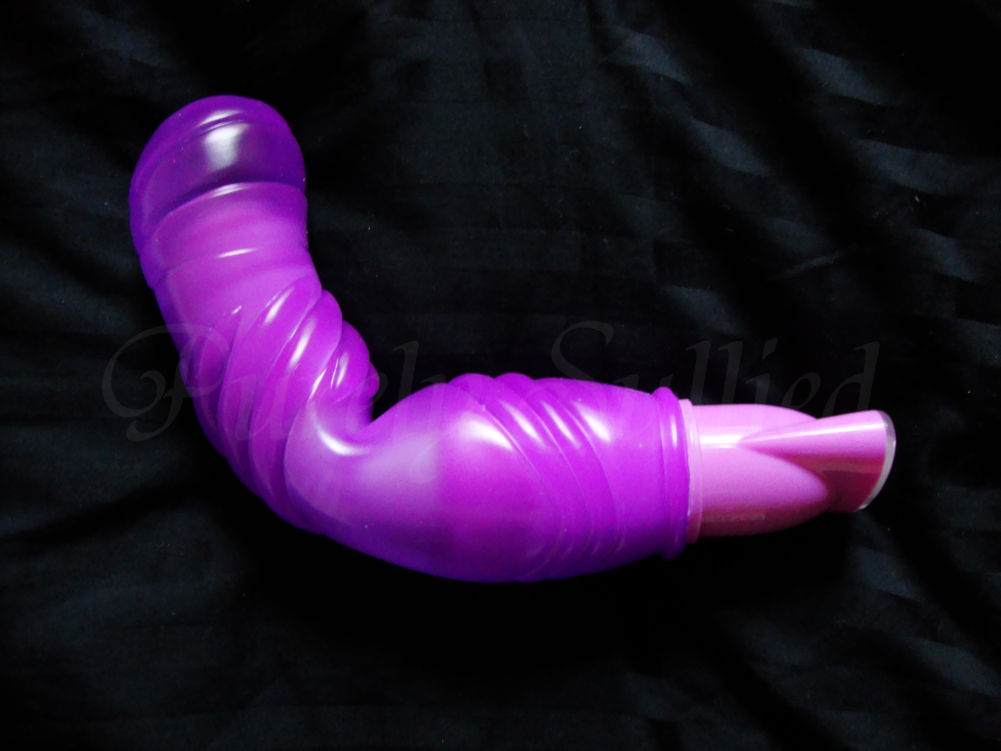 Back to Squiggle's flexibility. Near the middle of this vibe is a bendable area that allows you to angle the Squiggle any direction you want. While this is really an ingenious idea, it totally falls short. For example, let's say you wanted to angle it for g-spotting. While it holds pretty well at first, as soon as you attempt to apply pressure to your g-spot, the Squiggle bends right back, if not even backward.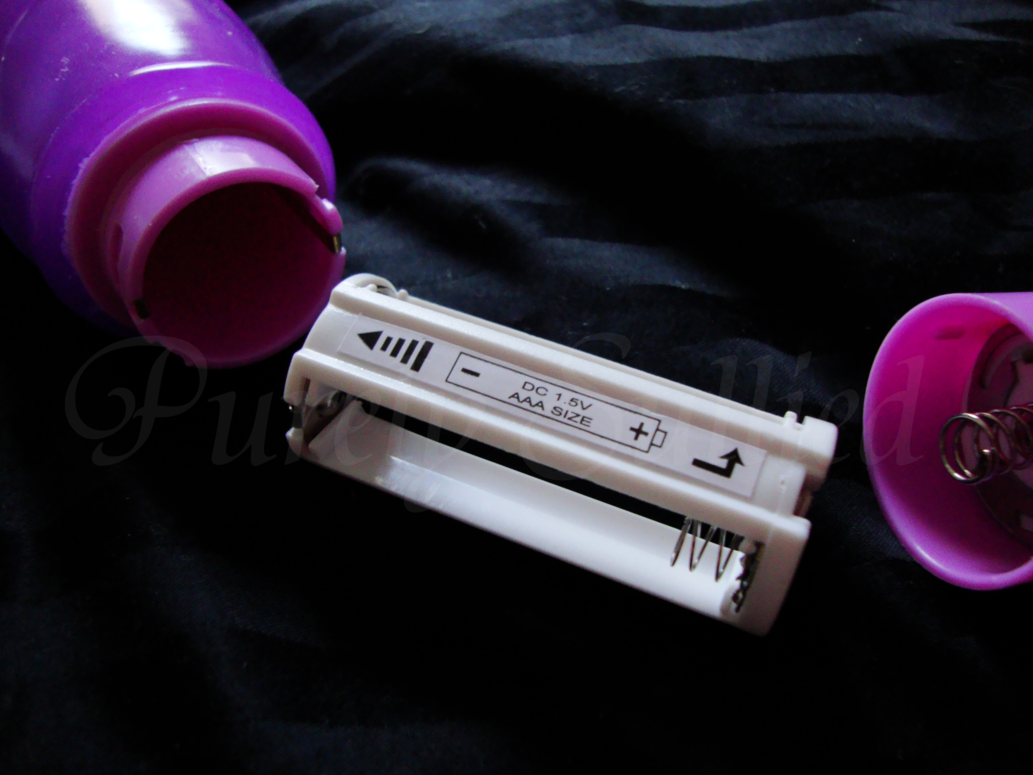 At least we got vibes right?
The base of the Squiggle unscrews to reveal a battery cradle. At first I rolled my eyes, expecting this to be just as troublesome as some other battery cradles which often fit far too snugly and have to be pried out. Fortunately even with the three AAA batteries, this cradle slides right out. Also, I'm really pleased that there are indicators showing which way to insert the batteries and the cradle into the toy. In the heat of the moment, things like that can be complicated!
The controls are very straightforward, which I really like (and it lights up!). One button serves as the power button and the other is the function button and there are ten functions total. When I first turned this vibe on, I was
very
impressed with the vibrations and was sure the Squiggle was going to carry me over in no time. That is until I realized that when you turn the Squiggle on for the very first time it will be on the highest standard vibration setting. Now that's a bit of a letdown. The second and third functions are the medium and low vibrations, and the remaining seven are mostly variations of pulsations and a couple escalating. I really liked the fast pulsations but they just weren't strong enough to really deliver. I'd say that overall the vibrations were average in strength and I was pretty impressed with its quietness considering, but I wouldn't say its anywhere near silent.
So far the Squiggle is my favorite CalExotics toy simply because the size is
perfect
and I absolutely love how my vagina hugs it. If you're able to overlook its material, that its bending ability which its marketed to do is disappointing, and average range vibrations, the Squiggle might surprise you in other ways.
Thank you CalExotics for sponsoring this review!